As photographers, one of the most rewarding experiences is being able to capture photos that will still be meaningful for decades. Recently, we had the pleasure of photographing Ari and Matt's engagement session in the charming town of Stillwater, and it was truly gorgeous. From the breathtaking sunset to the sentimental locations, every moment was filled with significance and beauty.
Ari, with her impeccable taste, had chosen Stillwater as the backdrop for their engagement photos due to its charm and timeless beauty. But little did she know just how serendipitous this choice would turn out to be. During our car ride from downtown to the park, Matt reminded her it was actually where they met up for their first date.
RIght now, that first date might feel like a distant memory for them; so much has happened in their relationship and they're about to get married. But I like to think that someday, when they've been married for years, they'll look back on these photos and strongly remember their first meeting, the first meal they shared, and the first jokes they laughed at.
Our journey began at the iconic Hotel Crosby, a place that held a special significance for Ari and Matt's family. The elegant architecture and classic ambiance created an exquisite backdrop. As we sat at the window table taking in our surroundings, Ari and Matt looked right at home with the familiar sights, lending an air of nostalgia and romance to the images. During the session, we took a little extra care to capture the intricate details of Ari's engagement ring. Matt had designed it as a surprise, blending both their birthstones into a unique, asymmetrical design.
As the golden hour approached, we made our way to a scenic spot outside the city. The sky transformed into a breathtaking canvas, painted with hues of red, pink, and purple. It was the perfect setting for Ari and Matt. We even had a little fun with a silhouette that turned out strongly reminiscent of a Gone with Wind that ended happily in a field in Minnesota.
Ari and Matt, thanks for coming out with us to enjoy the sunset, and thanks for braving tick season in tall grass. You chose such a beautiful backdrop for your session and when you look back on these photos, I hope they intertwine the place and memories they represent.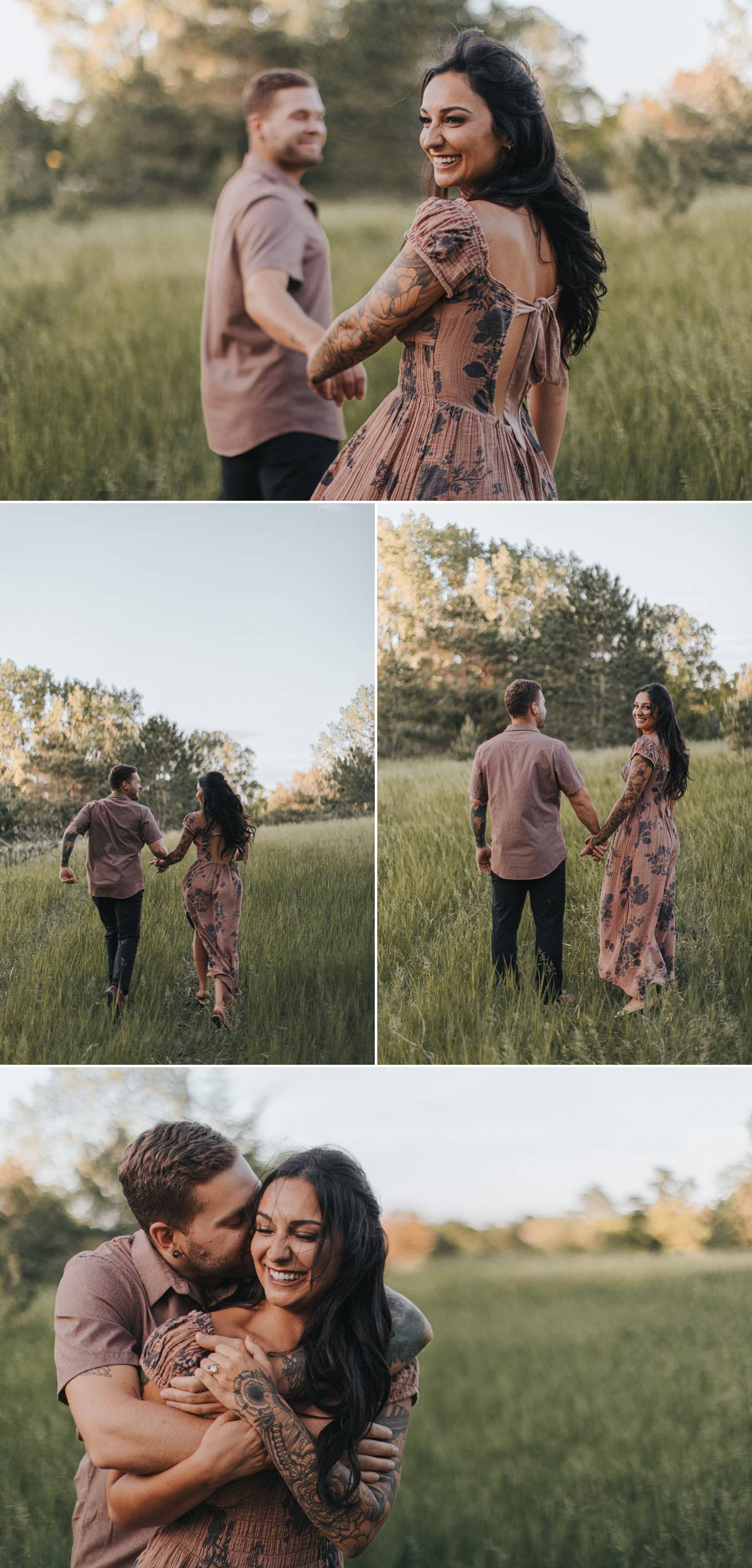 Check out another Stillwater Engagement Session here.